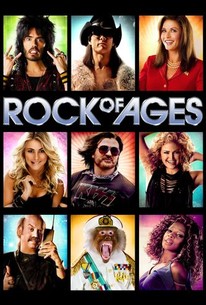 Credit: Rotten Tomatoes
Rock of Ages is a messy through-washed affair that has moments of painful cheesiness and glory all in
one. In short, an interesting film to write about.
The film's reason for existing --telling an extremely formulaic love story sprawled among random 80s
power ballads -- seems so tenuous that it makes complete sense that it's adapted from a Broadway
musical where formulaic love and carefully curated songs are more suited to live stage.
Julianne Hough plays ingenue, Sherri, who's fresh off the bus from Tulsa although she's hoping to be a
singer rather than an actress. She arrives at a concert venue on the Sunset Strip that's supposedly
legendary where she quickly meets her rocker love interest Drew. While neither of the two leads are
particularly interesting, they are surrounded by a very strong and interestingly assembled cast.
Tom Cruise takes a break from his day job as a stunt man on film to act the hell out of his role as aging
rock God, Stacee Jaxx (that name alone should qualify the screenplay for awards buzz) whose big gig
at the venue could make or break. Jaxx leans into every stereotype imaginable but displays a
self-consciousness that makes the dialogue crackle when a particularly alluring reporter (Malin
Ackerman) challenges him out of his comfort zone (leading to an extremely hot romance). Screen siren
Catherine Zeta-Jones goes against type as a pent-up politician Patricia acting as rock and roll morality
police. Alec Baldwin (perhaps the only unwise casting decision considering he's such a good fit as
polished authority figures that it's a lot to shake that image) plays shaggy-haired club owner
Dennis Dupree with Russell Brand finding his niche as Dennis's side kick.
The plot is a lot like the 90s cult classic "Empire Records" whereas there's a really fun and happening
place that represents the purity of music and all that on one side, and there's "the man" that wants to
get in the way of all the good fun. The creditors (the actual antagonists in the stage version, here they're
off-screen) are closing in on the club, a greedy manager (Paul Giamatti) renegs on the proceeds, and
Patricia wants to turn the public against the town (I imagine this is a crusade that might have worked
around the time of "The Music Man" as opposed to the 80s but go with it).
"Rock of Ages" is populated with a hodgepodge of musical numbers from various 80s ballads. Some are
simply sung by
characters walking down the street while a handful (particularly Jefferson Starship's "Any
Way You Want It" and Pat Benatar's "Hit Me With Your Best Shot") are elaborately choreographed show
stoppers. Director Adam Shankman was able to work some magic with "Hairspray" and does the same
thing here.
Like "Empire Records", this is a great hang-out movie that drips with a powerful nostalgia. Most people
watching the film won't be able to relate to the vibe of Los Angeles's Sunset Strip in its heyday that
inspired the play's creator (full disclosure: I was entirely unfamiliar with this scene and wasn't sure if the
Bourbon Room was real). However, most of us have that special hangout of our youth that the film taps
into. With the aging Dennis and Stacee characters finding space in the fictitious realm, the film sends
the affirming message that youth isn't always wasted on the young.
Like a power ballad, this is a film that rides on raw emotion. It's a little spotty on non-sensical but it ends
on a clear high.